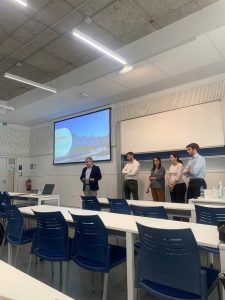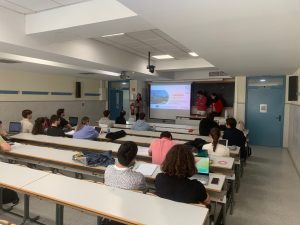 Abengoa, an international company that applies innovative technology solutions for sustainable development in the infrastructure, energy and water sectors, through Abengoa Innovación, had the opportunity to present the Grasshopper Project in the main Universities of Sevilla (Spain), in which it participates and whose objective is the production of sustainable energy through a Fuel Cell Power Plant using Hydrogen.
The first seminar took place in March for the students of "Hydrogen-based Systems" subject of the Degree in Energy Engineering taught at the "Higher Technical Engineering School" of the University of Seville. The second one was organized in April for students of the "Industrial Technologies Projects" subject that is part of the Engineering degrees at the Loyola University.
During these sessions, the students were explained the importance that Green Hydrogen and Fuel Cell Technologies have nowadays, the status of the Grasshopper Project, some of the lessons learnt during the construction phase of the project and some of the results of the tests that are being carried out.
The Grasshopper Project continues being disseminated to reach different audience target, brilliant students this time. We will come back soon with very interesting news.
__________________________________________________________________________________________________
This project has been funded by the Fuel Cells and Hydrogen 2 Joint Undertaking undersigned agreement number 779430. It is supported by the European Union's Horizon 2020 framework program for research and innovation and by the Hydrogen Europe and Hydrogen Europe Research associations.
Read More